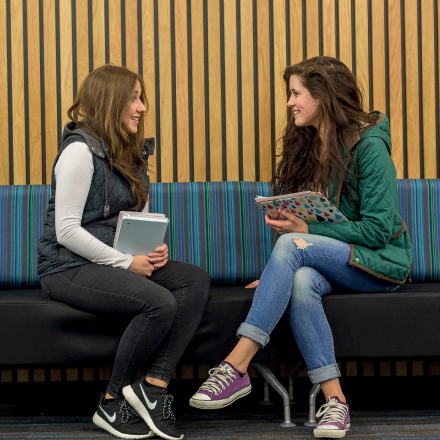 Share your experience
Your challenge is to give students a head start by supporting them in their first term.
Ready to make a difference? Be a CityBuddy Mentor.
Apply to be a Mentor
Applications are now open!

Why should I become a CityBuddy?
As a CityBuddy you'll be a second, third or fourth year student who will mentor new students on your course in their first term.
You'll give them a head start by guiding them around, showing them all City has to offer and providing a valuable insight into your own experience of studying on your course.
Gain experience
Develop your skills and become more employable.
Be an inspiration
Mentoring new students is a unique opportunity to be a role model at City.
Meet new people
As part of the experience you'll get to know people on your course.
Confidence boost
You'll get a great feeling as a role model for new students.
Help students succeed
Supporting students in their first term will make a big difference to them.
Exclusive events
Get an invite to exclusive CityBuddies events - including our Welcome Week Cafe.
Our success stories
Being a CityBuddy gave me the opportunity to develop the skills I needed to show employers that I am a confident leader and role model.
Adam
Civil Engineering
It's a great feeling to help others avoid the mistakes I made in the first year … I've really matured as a student.
Madalina
Investment and Financial Risk Management
Being a Mentor allowed me to develop leadership skills whilst also boosting my self-confidence by giving valuable advice. I felt great helping new students.
Nainika
Business Studies
One of the scariest things about going to university is not knowing what is in store, and having a CityBuddy immediately eradicates that.
Danisha
Accounting and Finance
Frequently asked questions
What happens after I apply?
We will assess your suitability using your application form. Successful candidates will be invited to take part in the new CityBuddy training programme.
How long does the CityBuddy scheme run for?
You are expected to be available for contact until 1st February. Though many choose to stay in touch long after this!
Do I need any previous experience?
You do not need to have any previous experience. All the guidance you need will be provided to you through our training programme.
Who is eligible to apply?
All undergraduate students that are expected to continue their studies in September 2020 are eligible to apply. This does not include placement year.
How will I contact my mentees?
After meeting them at one of our introductory events you will exchange contact details. It is up to you how you choose to contact each other.
Will it be a lot of work?
Not at all! Usually mentors will contact their matched students a few times during the first term and meet up at least once.
How will I be matched with students?
You will be matched with new undergraduates joining your course from August and the matching process is random.
How often do I have to contact my mentee?
Usually mentors will contact their matched students a few times during the first term to make sure their arrival at City is going well and meet up at least once.
Should I be at City during August or September?
You do not need to be physically present at City to take part. It is, however, strongly recommended that you attend our introductory event in late September.